029 MSNBC: Wall Street's Very Own CABAL Channel
Plutocrats Serving Oligarchy
And we thought FOX News was bad, ok, it is bad; that stays the same. Better to say, and we thought MSNBC was the antidote to FOX News. As of this election season it clearly is not. When people are chastised by party pundits for daring to suggest there is not much difference in the left and right parties, when people say both parties are two wings of the corporate party and are run by the same oligarchs they always come under fire by their respective party pundits.
With MSNBC and the rest of the so-called liberal media outright colluding to undermine progressive candidate Bernie Sanders, the same media that quickly relegated Tulsi Gabbard to persona non grata status, it is glaringly obvious the neo-liberal media, and that includes all of them, even neo-conservative FOX, are propaganda outlets for the financial/military industrial complex rulers. We mostly all knew that, but the aggressive, coordinated behavior by MSNBC propaganda pundits was especially tough to accept because MSNBC was supposed to be the "progressive" voice in the mainstream. If you're going to get mugged and left bleeding in the streets, at least let the assailant be an enemy or stranger, not your family member, not a friend, not someone you trusted.
There's no denying the democratic leadership got together before the South Carolina primary to stop Sanders, the candidate a giant swath of working people are rooting for. South Carolina congressman Jim Clyburn was called on to elicit the black vote and he did so. Onto Super Tuesday and the establishment candidate Joe Biden had all the support possible from the establishment media, not least was the "progressive" CABAL channel MSNBC. The coordinated attack was dubbed "Joementum" as if Biden was suddenly an attractive option and deemed most likely to defeat Donald Trump in the general election, a meme the networks pushed hard. The CABAL channels MSNBC, CNN and the networks drafted every pundit available and even directed their late night "comedians" to help stop Bernie Sander's surge. The also-ran democratic candidates Amy Klobuchar, Pete Buttigieg, Tom Steyer and Billionaire Bloomberg all dropped out then gathered up failed Texas candidate Beta O'Rouke and they all endorsed Biden just before Super Tuesday.
It looks like the jokes on them, their candidate is senile. Not just "Sleepy Joe" as Trump calls him, but senile or borderline senile, early onset dementia is being bandied about, has difficulty stringing together a complete sentence, gets confused easily, quick to anger, incoherent. Whatever is the case with Joe's mind it's embarrassing for the Democratic Party and their neo-liberal media who promoted him as the one who could beat Trump.
It's especially embarrassing because any decent candidate should be able to beat Donald Trump, but if Bernie gets Bernied again just like he did running against Queen Hillary in 2016 then that leaves Biden who will likely lose to Trump. As we recognize the motives of the cabal channels excluding FOX, it's becoming obvious they prefer Biden over Trump although it's not essential he beats Trump, what is essential is to make sure either Biden or Trump defeat Bernie Sanders, which means defeating the candidate who would best represent working class Americans. This coordinated attack seems to be working.
I'm surprised it has taken so long for so many to recognize MSNBC and CNN are not the antidote to FOX News just because Trump calls them Fake News. He's only partly correct, fake news is less to the point than selective news and unmitigated oligarch pushed neoliberal propaganda.
Let's look back a few years to MSNBC's record of allying with war mongers and against progressives. MSNBC host from July 2002 to March 2003 Phil Donahue, is intelligent, articulate and speaks from the viewpoint of someone with a heightened sense of social justice. In other words his resume says progressive, and what's more he used his position to speak out against the bogus run up to the disastrous Iraq war. Remember, this was George W. Bush and Dick Cheney's republican administration's war, not a democratic administration war, yet "progressive" MSNBC so much resented Donahue using his MSNBC platform to denounce the war that they fired their number one host.
From Democracy Now
March 22, 2013
PHIL DONAHUE: Well, I think what happened to me, the biggest lesson, I think, is the—how corporate media shapes our opinions and our coverage. This was a decision—my decision—the decision to release me came from far above. This was not an assistant program director who decided to separate me from MSNBC. They were terrified of the antiwar voice. And that is not an overstatement. Antiwar voices were not popular. And if you're General Electric, you certainly don't want an antiwar voice on a cable channel that you own; Donald Rumsfeld is your biggest customer. So, by the way, I had to have two conservatives on for every liberal. I could have Richard Perle on alone, but I couldn't have Dennis Kucinich on alone. I was considered two liberals. It really is funny almost, when you look back on how—how the management was just frozen by the antiwar voice. We were scolds. We weren't patriotic. American people disagreed with us. And we weren't good for business.

At 0:42 Donahue mentions how MSNBC did not want him to interview Daniel Ellsberg, who many know worked for the Military Industrial Complex's heavy weight, RAND corporation, yet was nevertheless anti-war and opposed the Vietnam war. Ellsberg is the author of the Pentagon Papers.
 Pentagon Papers
In late 1969, with the assistance of his former RAND Corporation colleague Anthony Russo, Ellsberg secretly made several sets of photocopies of the classified documents to which he had access; these later became known as the Pentagon Papers. They revealed that, early on, the government had knowledge that the war as then resourced could most likely not be won. Further, as an editor of The New York Times was to write much later, these documents "demonstrated, among other things, that the Johnson Administration had systematically lied, not only to the public but also to Congress, about a subject of transcendent national interest and significance".
MSNBC host Chris Mathews was fired/resigned in disgrace in early March 2020 over allegations of sexual misconduct and because of his nonsensical remark about Bernie Sanders victory in the Nevada caucus which he compared to the Nazi invasion of France. Sanders won the Nevada Democratic caucuses with 47 percent of the vote, the Associated Press reported.
"I was reading last night about the fall of France in the summer of 1940 and the general, Reynaud, calls up Churchill and says, 'It's over.' And Churchill says, 'How can that be? You've got the greatest army in Europe. How can it be over?' He said, 'It's over.'"
Mathews represents the oligarch's propaganda stream at the cabal channel MSNBC, he was envious and jealous of Phil Donahue many years before he turned his gaze to populist candidate Bernie Sanders.
Chris Mathews role in the firing of Phil Donahue
Gabriel Sherman's piece in New York magazine (October 3, 2010) on the cable news wars includes a bit of history on MSNBC's firing of progressive host Phil Donahue in 2003; an internal memo at the time worried that the show would be "a home for the liberal anti-war agenda at the same time that our competitors are waving the flag at every opportunity." Sherman focuses on MSNBC personality Chris Matthews—who sometimes claims he was opposed to the Iraq War—and his desire to get Donahue fired:
Donahue's problems only increased when Chris Matthews let it be known that he wanted Donahue off the air. Matthews was a rising force at the network, with a reported salary of $5 million. He cultivated former GE CEO Jack Welch and had the ear of NBC CEO Bob Wright. (The two summered together on Nantucket.) Matthews saw himself as MSNBC's biggest star, and he was upset that the network was pumping significant resources into Donahue's show. In the fall of 2002, U.S. News & World Report ran a gossip item that had Matthews saying over lunch in Washington that if Donahue stays on the air, he could bring down the network. After the item was published, Matthews showed up at Donahue's office and apologized. "He didn't deny it," Donahue remembers. With the war looming, Sorenson and Griffin decided to take him (Donahue) off the air to make way for 24/7 war coverage.
Some of us distinctly remember the cabal channels' (all of them) coverage of the democratic primary of 2008. The networks cameras honed in on Hillary Clinton and Barak Obama, gave somewhat less coverage to Joe Biden, noticeably less attention to pretty boy John Edwards and even less to Bill Richardson and others. MSNBC outright mocked Dennis Kucinich because he answered a gotcha question about UFO's by moderator Tim Russert, the same Tim Russert who asked both candidates in the 2004 general election George W. Bush and John Kerry about their membership in Skull and Bones and then immediately let the subject drop never to be revisited again.
The graceful Kucinich rebuffed derision with humor, the jokes on MSNBC
So Kucinich was a direct threat to the owners of the MSNBC, the ahem, "progressive" alternate site to right wing military industrial complex loving FOX News. Or are they? GE makes the rotary cannons on the front of the A10 Warthog attack jets.
The General Electric GAU-8/A Avenger is a 30 mm hydraulically driven seven-barrel Gatling-style autocannon that is typically mounted in the United States Air Force's Fairchild Republic A-10 Thunderbolt II. Designed specifically for the anti-tank role, the Avenger delivers very powerful rounds at a high rate of fire. The GAU-8/A is also used in the Goalkeeper CIWS ship weapon system, which provides defense against short-range threats such as highly maneuverable missiles, aircraft, and fast maneuvering surface vessels.
Those devastating rotary cannons sometimes fired depleted uranium DU rounds, this super dense material is a byproduct of nuclear reactors, in other words, it comes from General Electric nuclear reactors.
DU is the waste product of enriched uranium that is used in nuclear weapons and reactors. The process of "enriching" uranium involves taking naturally occurring uranium ore and separating the highly radioactive and unstable U-235 isotopes from their much less radioactive cousins, U-238. This leftover "depleted" uranium is composed of over 99% U-238, and is 60% less radioactive than natural uranium. However, tests conducted on DU tank armoring and munitions used in Kosovo by NATO troops demonstrated that trace amounts of plutonium and other radioactive elements do sometimes find their way into the mix. The military is fond of trumpeting the technical truth that DU is less radioactive than that found in nature, but is less candid about its dangers when actually deployed as a weapon.

The reason for the military's love affair with DU is that it has proven effective. DU has several physical properties that make it devastating as a material for both armor and armor-piercing projectiles. DU is 1.7 times denser than lead and "self-sharpens" as it penetrates metal, allowing it to rip through opponent tanks like "a knife through butter," in the words of many soldiers who have struggled to explain its awesome power. DU is also "pyrophonetic," meaning that it catches fire in the air. Upon hitting armor, it explodes and releases millions of tiny particles that can be inhaled. Besides incinerating the occupants of the vehicle, the toxic dust can contaminate the tank and the surrounding area.
During DU's debut in Gulf War I, the A-10 Thunderbolt "tank-killer" aircraft and the M1A1 Abrams tank were able to decimate the Iraqi tank forces with almost no US casualties. The bullets weren't the only "success." Stories abound, perhaps apocryphal, that shells Iraqis fired at DU-armored tanks simply bounced off. In the aftermath of the Gulf War, DU was celebrated as one of the many lethal tools that led to the overwhelming US victory over Iraq . DU was such a smashing success that it was trotted out again in Kosovo , Bosnia , and Gulf War II.
Are we getting the picture here that MSNBC is truly the CABAL's favorite fake progressive, fool the public channel and their hosts are overpaid plutocrats working for global sociopathic oligarchs? Well there's another reason MSNBC's parent company at the time GE didn't want Dennis Kucinich to speak at the Las Vegas primary, held in proximity to Yucca Mountain.
Dennis Kucinich on Yucca Mountain
Kucinich dropped his bid for the Democratic nomination on Jan. 25, 2008, changing his focus to run for re-election to his Ohio congressional seat. He did so after having been excluded from televised Democratic debates in Nevada, New Hampshire and South Carolina.) Dennis Kucinich not only opposes making Yucca Mountain the nation's nuclear waste storage site, he opposes all forms of nuclear energy and if elected president would phase out nuclear power plants. (My note: this was well before Fukushima of 2011) Kucinich stated on his Web site that nuclear energy poses more of a threat to the U.S. than nuclear weapons. Since being elected into the House of Representatives in 1997, Kucinich has never voted in favor of Yucca Mountain proposals. While on the city council in Ohio and as a mayor of Cleveland, Kucinich railed against the building of both nuclear power plants and nuclear waste storage sites in the state. Kucinich is instead in favor of renewable energy sources that will not pollute or cause harm to the environment or people.
Dennis Kucinich Amy Goodman interview
So we've-you know, we're in a conundrum here about what the public's rights are, because this goes far beyond my humble candidacy. It goes right to the question of democratic governance, whether a broadcast network can choose who the candidates will be based on their narrow concerns, because they've contributed-GE, NBC and Raytheon, another one of GE's property, have all contributed substantially to Democratic candidates who were in the debate. And the fact of the matter is, with GE building nuclear power plants, they have a vested interest in Yucca Mountain in Nevada being kept open; with GE being involved with Raytheon, another defense contractor, they have an interest in war continuing. So NBC ends up being their propaganda arm to be able to advance their economic interests because it's always a safe bet to bet on war.
Let's not overlook Raytheon, ranked number four in U.S. military contractors by Investing News Network. MSNBC/GE, the "progressive" cabal channel is closely associated with Raytheon. Here's their ranking according to Investing News Network.
4. Raytheon (NYSE:RTN)
Revenue: US$27 billion, year-to-date gains: 19.72 percent
Raytheon is the world's largest producer of guided missiles, and also dabbles in basically everything else military and technology, such as developing integrated systems used in the Zumwalt-class guided missile destroyers in the US Navy. In June it was revealed that Raytheon and United Technologies (NYSE:UTX) — which is itself the 17th largest defense contractor globally, and the sixth largest in the US — were looking at a "merger of equals" in a deal that would create one of the largest defense contractors in the world.
General Electric and Dabhol Power plant
Dabhol Power Station is located near Anjanwel village in Ratnagiri district in Maharashtra, India, about 160 kilometres (99 mi) south of Mumbai. The power station was a built by the Dabhol Power Company (DPC), which was a joint venture of Enron, General Electric, Bechtel and Maharashtra Power Development Corporation. At the start of its construction in 1992, the Dabhol power station project was, at $3 billion, the biggest foreign investment in India. The plant was mired in controversies of corruption and malpractices involving Enron and people at the highest political levels of the Indian and the United States (Clinton and Bush Administration) governments.
The head of Enron's Dabhol project was Clifford Baxter 43, who was found shot to death in his Mercedes Benz in the early hours of Friday morning, January 25, 2002 near his home in Sugar Land, Texas. Since the cabal channels and the networks never showed much curiosity about this tragic event it's up to you to research the various, possibly nefarious coincidences surrounding 9/11, Enron, GE, Bechtel and the Middle Eastern wars.
To help you get started here is a rich source of information the cabal channels like MSNBC refused to tell us about the connections between 9/11 and the Afghanistan pipeline proposals. You have to ask the media, no, I'm serious, we all have to demand See Dare to Debate to know why the media is keeping stories like these ones in the links from us.
So that was "progressive" MSNBC when owned by military contractor, rotary cannon maker, depleted uranium producer General Electric, but GE sold NBC/MSNBC to media conglomerate Comcast for $16.7 billion in February 2013, further consolidating the U.S. media to a mere handful of mega corporations. MSNBC, the "progressive" cabal news channel was no longer directly owned by GE, a giant of the military industrial complex, but the new owners did not waver much on their overt support of American hegemony and the use of the tax payers' socialized military whenever it suited the oligarchs.
Comcast was founded by Ralph Joel Roberts (March 13, 1920 – June 18, 2015) Roberts was born on March 13, 1920 in New York City. His parents Robert Max Roberts (also known as Bob Roberts) and Sara Wahl were both Russian-Jewish immigrants. Roberts, according to Wikipedia, "received awards from . . . the Anti-Defamation League of B'nai B'rith, The National Conference of Christians and Jews. . . . B'nai B'rith International, also according to Wikipedia: "The Anti-Defamation League (ADL; formerly known as the Anti-Defamation League of B'nai B'rith) is an international Jewish non-governmental organization based in the United States. It was founded in late September 1913 by the Independent Order of B'nai B'rith, a Jewish service organization.
The ADL states that its mission is: "To stop the defamation of the Jewish people, and to secure justice and fair treatment to all" via the development of "new programs, policies and skills to expose and combat whatever holds us back."
MSNBC/COMCAST'S is not just pro-Israel, a lot of people embrace Israel's right to exist and that is not the problem with most Americans and Canadians who are raised to embrace Israel without question. MSNBC and the media are far too quick to demonize anyone who does not fawn over Israel and are quick to label anyone who doesn't praise Israel and Zionism as anti-Semitic. This media intolerance of criticism of Israel and their U.S. lobby AIPAC, and their willingness to conflate Judaism with Zionism is deceptive and deplorable. MSNBC and the other cabal channels had a great opportunity to bring out these issues and encourage discussion and debate when The Israel Lobby," by John J. Mearsheimer of the University of Chicago and Stephen M. Walt of Harvard's John F. Kennedy School of Government was published in 2008. I could find no discussion involving MSNBC and the Israel Lobby on line.
Ok, so one of the largest media conglomerates is Zionist friendly, unlike the other media giants . . . just kidding, they are all Zionist friendly, just look up ownership of the media for yourselves. In fact MSNBC's alleged arch enemy FOX was run by Zionist Roger Ailes, and FOX/Newscorp owner, Rupert Murdoch is a business partner with Lord Jacob Rothschild, the same name of the of the recipient of the Balfour Declaration, which was a 1917 letter of sympathy and support from British foreign secretary Lord Balfour to Lord Rothschild concerning the formation of the state of Israel to be carved out of Palestine. To set the record straight, some of the biggest opponents of Zionism are orthodox Jews, and MSNBC coordinating a campaign to undermine Bernie Sanders not once, but twice, could also be considered an anti-Semitic attack on a Jew.
Today, MSNBC, the "progressive" cabal channel is owned by Ralph's son Brian Roberts. Once again, according to Wikipedia, Roberts is considered a supporter of the Democratic Party and supported Hillary Clinton in the 2016 United States presidential election. Which, of course, means this Zionist cabal channel didn't support Bernie Sanders the only Jew and the only true progressive in the race, with the exception of Gabbard, didn't support him then and doesn't now. This is readily apparent watching MSNBC, which is becoming as painful and frustrating, almost, as watching FOX and CNN and shows us a few common characteristics about the hosts of MSNBC. The overpaid propagandists at MSNBC, by wantonly destroying the political careers of Kucinich, Jill Stein, Sanders, Tulsi Gabbard, not to mention their own hosts who dare stray off message, are not only sycophantic toadies, groveling materialistic plutocrats, but they're not even accomplished journalists or broadcast journalists.
COMCAST is not looking for journalists, the last thing they want is someone digging up dirt on the corporations, mainly pharmaceuticals, the biggest sponsors of their neo liberal propaganda outlets. They don't want anyone who challenges Israel's apartheid, fascist regime, they will not mention the BDS movement, they don't want anti-globalists, and are not really interested in the causes of anthropogenic global warming because they know the cause is hyper-consumerism, and they all live in mansions of varying degrees and have servants. Like the other cabal channels, FOX and CNN, and the networks, all U.S. media has nothing but praise for the military and regularly claims anyone who signs up is an immediate hero. In one breath they can all claim we are spending too much on social programs while writing a blank check to the military industrial complex, yes, GE is part of that.
MSNBC and the rest don't really seem interested in doing stories on the symbiotic relationship between the military and big oil, or reminding us the socialized taxpayer funded military spends much of its money, time and effort patrolling the oceans on behalf of private, for profit oil companies, not to mention having our army and air forces invading sovereign countries on false pretenses and setting up infrastructure to ship out resources. Why would they? Most of the countries we've invaded since 9/11 have either been in the process of separating from the US petrodollar as world's reserve currency, or are Israel's historic enemies, or both. The owners, stockholders and hosts of MSNBC and the others are drenched in the blood of hundreds of thousands of innocents.
Ed Schultz transferred from Air America Radio, from whence Al Franken hailed, to MSNBC, but they didn't like him supporting Bernie Sanders so fired him. He picked up on RT and claims in this video the Russian Sponsored network allowed way more freedom of expression than MSNBC. Ed passed away July, 2018. He was 64.
But back to Hillary, because we all know everything today revolves around Hillary Clinton and Donald Trump. COMCAST head Brian Roberts, according to Wikipedia, supported Hillary Clinton and undoubtedly supports Joe Biden. What these self-proclaimed "progressives" failed to reconcile is how on earth could they support Hillary during the 2016 campaign after she promised to "enforce a no-fly zone over Syria" not once, with the Bernie debate, but again when she debated Trump? MSNBC's idiotic hosts just couldn't grasp that was a non-starter for progressives and even conservatives.
Hillary cancelled herself out among most progressives when she basically promised to shoot down a Russian jet over Syria, on the border with Israel. The hubris of the hosts at MSNBC in thinking they have us fooled is astonishing. According to the cabal channels, it wasn't the fact Hillary bragged about killing Muammar al-Qaddafi of Libya, "We came, we saw, he died." It wasn't the fact she promised to drag us, perhaps into world war III with Russia, over Israel's enemy Syria, nope, it was the Russians interfering with our Facebook and Twitter social networks that turned the election for Trump. I'm just wondering why there has never been a poll which has been directed at Trump voters asking them if they had originally planned to vote for Hillary but something on social media changed their minds. I haven't heard of that poll yet and don't expect to.
So to offer up a little more support for my claim MSNBC is a cabal channel, representing finance, pharmaceuticals, military industrial complex, Zionism, let's take a look at some of their hosts.
Rachel Maddow, Rhodes Scholar, like Bill Clinton and Pete Buttigieg, all three are smugly articulate, condescending and feel they need to bring us all up to speed first, establish the true foundation of knowledge and can then proceed to inform us plebeians. The Rhodes Scholarships are named after Cecil Rhodes, infamous for his brutality of blacks in Africa
From Wikipedia:
Cecil John Rhodes PC (5 July 1853 – 26 March 1902)was a British businessman, mining magnate and politician in southern Africa who served as Prime Minister of the Cape Colony from 1890 to 1896. An ardent believer in British imperialism, Rhodes and his British South Africa Company founded the southern African territory of Rhodesia (now Zimbabwe and Zambia), which the company named after him in 1895. South Africa's Rhodes University is also named after him. Rhodes set up the provisions of the Rhodes Scholarship.

One of Rhodes's primary motivations in politics and business was his professed belief that the Anglo-Saxon race was, to quote his will, "the first race in the world". Under the reasoning that "the more of the world we inhabit the better it is for the human race", he advocated vigorous settler colonialism and ultimately a reformation of the British Empire so that each component would be self-governing and represented in a single parliament in London. Ambitions such as these, juxtaposed with his policies regarding indigenous Africans in the Cape Colony—describing the country's native black population as largely "in a state of barbarism", he advocated their governance as a "subject race", and was at the center of actions to marginalize them politically—have led recent critics to characterize him as a white supremacist and "an architect of apartheid".
An excerpt from Race and History from March 16, 2002 by Matthew Sweet titled Cecil Rhodes: "A Bad Man in Africa" gets more to the point of why one should probably not identify with Cecil Rhodes, it's like claiming you are a graduate of the Christopher Columbus School of genocide.
North of the Zambezi, they have long known about the suppression of free speech, about the bloody redistribution of land along racial lines, about politicians happy to employ armed – and sometimes uniformed – mobs to kill their opponents. They are practices imported to this region, along with the railways, by the British.

Unlike the African press, the Western media rarely invoke the name of Cecil John Rhodes: nearly a century after his death – on 26 March 1902 – his name is more associated with Oxford Scholarships than with murder. It's easier to focus on the region's more recent, less Anglo white supremacists: Ian Smith, for instance, who – despite his Scottish background – seems cut from the same stuff as those Afrikaner politicians who nurtured and maintained apartheid farther south.

But it was Rhodes who originated the racist "land grabs" to which Zimbabwe's current miseries can ultimately be traced. It was Rhodes, too, who in 1887 told the House of Assembly in Cape Town that "the native is to be treated as a child and denied the franchise. We must adopt a system of despotism in our relations with the barbarians of South Africa". In less oratorical moments, he put it even more bluntly: "I prefer land to niggers."
And of course, Bill Clinton, the other Rhodes Scholar mentioned, and Hillary's husband, the one who signed . . .
(Wikipedia) The Gramm–Leach–Bliley Act (GLBA), also known as the Financial Services Modernization Act of 1999, (Pub.L. 106–102, 113 Stat. 1338, enacted November 12, 1999) is an act of the 106th United States Congress (1999–2001). It repealed part of the Glass–Steagall Act of 1933, removing barriers in the market among banking companies, securities companies and insurance companies that prohibited any one institution from acting as any combination of an investment bank, a commercial bank, and an insurance company. With the bipartisan passage of the Gramm–Leach–Bliley Act, commercial banks, investment banks, securities firms, and insurance companies were allowed to consolidate. Furthermore, it failed to give to the SEC or any other financial regulatory agency the authority to regulate large investment bank holding companies. The legislation was signed into law by President Bill Clinton.
If you lost your home and 401 K savings during the housing crisis of 2007-8 thank this Rhodes Scholar. Bill Clinton is infamous among progressives for also signing: Wikipedia, The Telecommunications Act of 1996 was the first significant overhaul of telecommunications law in more than sixty years, amending the Communications Act of 1934. The Act, signed by President Bill Clinton, represented a major change in American telecommunication law, since it was the first time that the Internet was included in broadcasting and spectrum allotment.
One of the most controversial titles was Title 3 ("Cable Services"), which allowed for media cross-ownership. According to the Federal Communications Commission (FCC), the goal of the law was to "let anyone enter any communications business – to let any communications business compete in any market against any other." The legislation's primary goal was deregulation of the converging broadcasting and telecommunications markets. However, the law's regulatory policies have been questioned, including the effects of dualistic re-regulation of the communications market.
I'm sure COMCAST (MSNBC) was dead set against the Telecommunications Act of 1996.
MSNBC, the "progressive" cabal  channel kicks off with Morning Joe, featuring husband and wife team, former republican congressman from Florida Joe Scarborough and Mika Brzezinski, daughter of Zbigneiw Brzezinski, partner with David Rockefeller in founding the globalist strategy think tank the Trilateral Commission in 1973. A snippet of his life of influence from Wikipedia:
In 1959, Harvard awarded an associate professorship to Henry Kissinger instead of Brzezinski. He then moved to New York City to teach at Columbia University. Here he wrote Soviet Bloc: Unity and Conflict, which focused on Eastern Europe since the beginning of the Cold War. He also taught future Secretary of State Madeleine Albright, who, like Brzezinski's widow Emily, is of Czech descent, and who he also mentored during her early years in Washington. He also became a member of the Council on Foreign Relations in New York and joined the Bilderberg Group.
So he's Trilateral Commission, Council of Foreign Relations and Bilderberger Group. By the way, MSNBC regularly has CFR head Richard Haas on as a guest commentator as well as Michael Steele, former Chair of the Republican National Committee.  (You may recall if you watched the videos above Donahue saying MSNBC had to have two conservatives on for every progressive). MSNBC, just like the other cabal channels and major networks, refuses to send reporters to the annual Bilderberger meetings, even though the most powerful people in the world meet and talk world events and strategy, something you'd think a "journalistic" entity would be interested in. Zigbig, who passed away in 2017 wrote many noteworthy geo-political strategy books where he postulated on the present and future of energy and politics on a global scale, not least is The Grand Chessboard, America's Primacy and its Geostrategic Imperatives. Thus over the years, Brzezinski had many things to say and here are a few of his quotes.
"Shortly, the public will be unable to reason or think for themselves. They'll only be able to parrot the information they've been given on the previous night's news." ~ Zbigniew Brzezinski

"The technotronic era involves the gradual appearance of a more controlled society. Such a society would be dominated by an elite, unrestrained by traditional values. Soon it will be possible to assert almost continuous surveillance over every citizen and maintain up-to-date complete files containing even the most personal information about the citizen. These files will be subject to instantaneous retrieval by the authorities." ~ Zbigniew Brzezinski

"People, governments and economies of all nations must serve the needs of multinational banks and corporations." ~ Zbigniew Brzezinski

"We have a large public that is very ignorant about public affairs and very susceptible to simplistic slogans by candidates who appear out of nowhere, have no track record, but mouth appealing slogans" ~ Zbigniew Brzezinski
Now I am not saddling the daughter with the crimes or ideology of the father, Mika is no Zbigniew, but it shows how much stock MSNBC/COMCAST/Brian Roberts puts in providing lucrative careers and airtime influence to affluent, well connected, ivy league indoctrinated, plutocratic reared, totally compliant people to act as "progressive" journalists on TV.
I'm going to skip over quite a few of the MSNBC cabal channel's hosts, some are more egregiously sycophantic than others, some are actually interesting and relatively fair. We don't need to say much about helicopter door gunner Brian Williams, especially after he was recently mocked over his lack of basic math skills on social media after quoting a tweet claiming that former 2020 Democratic presidential candidate Mike Bloomberg, after having spent more than $500 million and dropping out "could have given each American $1 million and still have money left over".
"Bloomberg spent $500 million on ads. The U.S. population is 327 million. He could have given each American $1 million and still have money left over, I feel like a $1 million check would be life-changing for people. Yet he wasted it all on ads and STILL LOST," Williams said in quoting a tweet by journalist Mekita Rivas. during an interview with New York Times editorial board member Mara Gay.

"It's an incredible way of putting it," Williams concluded.  It's true," Gay added. "It's disturbing."
The U.S. population is currently 327 million people, which if evenly divided by $500 million comes to $1.53 per person.
Hey MSNBC, Brian Williams and Joe Biden look good on you.
This look at the cabal channel MSNBC would not be complete without mentioning their favorite NBC/MSNBC "foreign correspondent" Andrea Mitchell. So who's Andrea Mitchell, you ask? She's the wife of Alan Greenspan, Chair of the Federal Reserve from 1987 to 2006. He ruled over our sovereign's country's finances under Reagan, Bush, Clinton and Bush Jr. I say he ruled and was not serving those presidents, and thus not serving the people, it's better if you listen to it for yourselves.
Hank Paulson, former head of Goldman Sachs was Secretary Treasury during the GW Bush years. Tim Geithner, was head of both the Federal Reserve and the Treasury. Our money is not our money, it's totally and completely under the control of the banksters who have hijacked this country from the moment Woodrow Wilson signed the Federal Reserve Act of 1913, there are mountains of information on this subject so I will not spend any more time on it, but it's telling how MSNBC picks their "journalists," their hosts.
So just remember, if you are studying in one of the best broadcast journalism universities, or are working your way up from the local networks, remember, to be successful, to see yourself someday as a host of one of the large network news or cabal channel news/infotainment sites, DO NOT demonstrate insatiable appetite for the truth, do, however, understand how power works and be very cognizant of the ideology of the owners and of their associations with the financial powers of the country and world. Then and only then do you have a shot at being a top level broadcast journalist.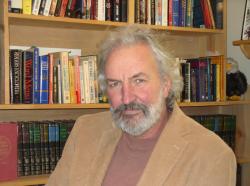 Lee is an author who lives with his wife and near his children and grandchildren in the Pacific Northwest, draws substance from a rather unique chapter in his lifestyle, raising a family in a remote wilderness valley in north central British Columbia. (lee@youtopia.guru) Find Out More >>
Reader Interactions