015 An Alien Perspective on Terrestrial Religion
A definition of myopia is believing we are the only planet habited by humans, look up, there are many mansions awaiting the spiritual person.
Sometimes it feels as if the working public is playing the role of the Dutch Boy, you know, the image where the little boy sticks his finger in the hole of a cracking and bulging dike, but it's hopeless because the dike is going to burst regardless, the weight of the water is overpowering and the condition of the dike is too degraded to continue to hold back the force.
In this case we the people are the Little Dutch Boy trying to stop a total implosion of law, order and quality of life into the spiraling chaos of financial terrorism.
The saying "all wars are bankers' wars" parallels the old saw, "all wars are religious wars," but even so, many religious wars were smokescreens for alternative motives, gaining land, wealth and power. For instance, when the Venice merchants financed the Fourth Crusade in their march toward the Levant, ostensibly to wrestle Jerusalem back from Muslims, the Crusaders made a surprising and bloody coup d'état against Constantinople, modern day Istanbul, where "Christians" slaughtered Christians in a brutal secular power play that resulted in Venice banksters controlling lucrative trading routes.
Then as now, true financial masters, be they banksters or other corporate heads, loath competition, despite the fact they still claim competition among companies is good for the public. From competition, to collusion, to cooperation to conspiracy and finally cartel, the path to monopoly trounces fair competition under Gucci loafers.
Cut to now and the global financers are making the most of religious strife by selling arms to all sides of the Abrahamic offshoots, Judaism, Christianity and Islam. The three major religions stem from the same terrestrial Bible, and our arms manufacturers and the banks who hold substantial financial interests in these war profiteering corporations are ecstatic to supply fanatical religious combatants with weapons of mass destruction with which to ensure victory over infidel's to the delight of their ever loving and compassionate God—and Wall Street.
When the cordite and white phosphorus smoke clears, oil derricks sprout from the blood-soaked sands of the Middle East. You may want to research New Silk Road, CENTGAS and TAPI pipelines as well as US and British oil companies operating in Iraq. The establishment media, the original "fake news" outlets, are not the place to go for this kind of information. You can find a lot of it in my book Youtopia: Exploding the Myths and Exposing the Elites Who are Ruining Paradise on Earth for All of Us, and many links to authentic news stories are found in my blogs at youtopia.guru.
People are getting fed up with the financial terrorists who rule over this earth. Like dominos falling, we've had Arab Spring, Occupy Wall Street, Brexit, the most bizarre US presidential election where people voted in Krusty the Clown because they voted against the establishment candidate, yet both Trump and Clinton are egocentric materialists, in awe of terrestrial power.
We've had numerous false flag-triggered wars, banking scandals, savings and loan scandals, LIBOR scandal, Pentagon scandals, missing trillions, blatant conflicts of interest regarding politicians, banksters and various mega-corporations; wars for oil, wars for opium, wars for rare earth minerals, ancient wars to force opium into China, race wars, gender wars, war profiteers, and false prophets aplenty.
We've endured CIA assassinations, drug running, overthrows of democratically elected social governments, starting with Iran in 1953 and continuing as corporations lusted for natural resource profits from many countries of South America. Our tax dollars are sponsoring various operations, not on ailing human bodies, but of conspiracy and political intrigue: Operation Gladio, Operation Mockingbird, Operation Paperclip, Operation Northwoods, Iran-Contra, Operation dumb-down-the-American-public and so on and so forth. We've seen Nobel "Peace" Prizes given to architects of mass murder, or war by proxy in other terms, Kissinger, seriously?
Much like the Medieval Days, most of our strife stems from religion, terrestrial religion. Perhaps the answer is not going to be found by surfing the net, or watching TV propaganda, but by looking up, no, not at your ceiling, not even at Canada but at the night sky . . . .
Myopia is our problem. We only see from an earthling's perspective, and yet if you believe God made the earth you must believe God also made the entire universe, but alas, so many of us walk around with our heads down, stooped with dismay or merely texting, who knows? But we don't look up enough and consider the possibilities of what the universe might really be like and why we can't go explore it, maybe stumble upon civilizations that actually work beautifully.
For starters we might decide to act like a civilization that at least considers the possibility there might be intelligent life, much like us only actually intelligent, all over the starry sky. That would seem a no-brainer beings as astronomers and astrophysicists have continually upgraded their projections of habitable planets in our galaxy to be somewhere around 60 billion. Maybe habitable doesn't always mean by humans, but that would still leave billions of human habitable planets I suspect. Multiply that 60 billion by the number of galaxies in the "known" universe by 100-200-billion and it's a good reckon that there are a lot of folks out there with myriad cultures and stages of civilization. As the latest study reveals:
The number of potentially habitable worlds circling red dwarf stars—the most abundant type of star in our Milky Way galaxy—may have just doubled to 60 billion, a new study suggests. Using global climate models originally created for studying global warming on Earth, a team of researchers from the University of Chicago and Northwestern University—National Geographic.
Seriously, there has to be some cool stuff going on out there, some amazing things to see, plenty more to learn and experience. What's holding us back from joining the galactic party or thinking bigger, the universal party?
Religion, terrestrial religion, that's what. I'm not talking about biblical religion so much as I'm talking about the religion most people actually practice enthusiastically and crow about. A religion that helps the weak, greedy and indolent parasites among us, dominate stronger and smarter men and women, I'm talking about Satanism, better identified as materialism.
It's better all-around if people realize people are the primary source of evil, not deities with goat horns or a red tail. When Jesus dealt with Satan in the Bible it was analogy for materialism.
Again, the devil taketh him up into an exceeding high mountain, and sheweth him all the kingdoms of the world, and the glory of them; [9] And saith unto him, All these things will I give thee, if thou wilt fall down and worship me. Matthew 4:8-9
And in another passage Jesus warns Peter about his myopia:
Turning and looking at His disciples, Jesus rebuked Peter and said, "Get behind Me, Satan! For you do not have in mind the things of God, but the things of men."  Mark 8:33
It doesn't help to blame a deity, it does no good to claim the Rothschilds and the global elites live fat off inherited wealth, are mostly inbred pedophiles and worship Lucifer, that simply isn't true, most worship Lucre, not Lucifer, otherwise that would be silly, play acting, dancing around an alter or owl statue, swearing allegiances . . . to Egyptian dung beetles . . . taking oaths, reciting goofy mantras, (like trickle down economics) are things only bored and pampered rich children would do. Evil is materialism because materialism incites the primitive/middle brain, the fight-or-flight brain. This is the function of the vestige of evolution we call the "ego."
For this argument, an ego-dominated personality dwells on his or her material self and this too often manifests in greed, conspicuous consumption, false sense of accomplishment, hubris, yet the power over people and the security that comes with money is reassuring. Ego materialism also shows up as a strong nesting instinct, until nothing less than a 7,000 square foot McMansion will provide the comfort level one of great faith in terrestrial religion is entitled to.
The reason corruption, gross inequality, violence, planetary degradation and war besiege us constantly and threaten to reach critical mass is primarily because most earthlings are materialistic, are not spiritualistic and do not understand what aliens understand and that is how the universe protects itself from ego-driven material exploitation.
The more evolved higher brain understands the vastness of the universe, or at least is eager to contemplate it, and further understands that all things are interconnected to all other things and therefore all things are due regard and respect. This mind state understands quality of life is improved through cooperation with each other rather than winner-take-all capitalism. Benevolent, cooperative capitalism, would serve this planet much better.
The fact we don't regularly consider what other cultures on other planets might be like, the fact we don't redesign and reboot of our financial systems suggests the people in power are comfortable with the way it is and don't want "change," and don't need "hope," because they have plenty of money. Hope is for stooped-backed, raw-knuckled working people who can't seem to make their paychecks stretch to the next one no matter how frugal they live.
We should be designing our tax structures, money creation and distribution and all government functions to protect the commons for all people and provide equal opportunity for all in as much as possible, in as much as people are willing to work to improve their own living situations.
Materialism is why the Roman Catholic (Universal) Church insisted the world was the center of the solar system, mainly because the Pope was self-appointed as the Vicar of Christ; the Roman Emperors made Jesus their franchise player, owned and marketed him and were the official dispensers of the new religion. This geocentric nonsense makes sense when you juxtapose the first two letters, then we get an egocentric model which rewards scheming aggression and thus is not acceptable to the universe at large. Jesus said to his followers,
"You are from below, I am from above; you are of this world, I am not of this world." John 8:23
Whether you believe in God or Jesus, know this, Jesus in person or as metaphor was certainly not materialistic, he was the ultimate spiritualist. Which brings us finally to the alien perspective on religion and that perspective is there are only two cosmic religions or belief systems that matter, materialism (egocentric) and spiritualism, the universal belief that all things are connected. We must travel a few light years to understand that.
Putting physics limitations aside for now, let's pretend we somehow travel thousands of light years and arrive on a lush planet and begin to interact with a hospitable race of advanced people, by advanced I don't mean George Jetson robotic world advanced, but intelligent people living in harmony with their natural surroundings. So an earthling arrives on this alien planet, but now the earthling is the alien, eventually they begin to discuss creation and God and such things. The earthling, having packed a Bible with him, starts to explain how the entire universe was created by God and the first beings anywhere were Adam and Eve and they appeared in this Garden called Eden, which is somewhere in the Middle East—on earth. That would raise some eyebrows from the aliens, no doubt, and when they heard the parts about the snake and cane trick, the parting of the sea, the burning bush and many other such revealed events, it could get awkward. The alien would be inclined to smile politely and discard most all the creation fables in the bible as nonsense or irrelevant to the his or her own world. But the aliens would also recognize some truths in the Bible, among them social etiquettes such as love one another, love God, (the universe), do not judge, do not condemn, do not bear false witness, don't kill, etc. Those are universal truths and are spiritual in nature and that's why I include some Bible passages here.
On the other hand, should humankind of the materialistic persuasion venture into space, it would get ugly fast. Imagine if Dick Cheney and the PNAC neocons landed on another planet, thinking like materialists do, they would quickly look for ways to exploit the people, they would look for valuables and would introduce deceit, intrigue and murder in order to obtain what they think they want.
Eventually there would be galactic wars, but only after the earthly media demonized the aliens living on their own planet, making killing them and stealing their resources somehow about protecting freedoms.
Christ may have been what the Bible says, or he may have been an alien showing us how the universe is designed for cooperation so that malevolent, materialistic entities cannot destroy it. The universe is designed with safeguards much like our immune system or, the way the forest deals with parasitic bark beetles–rampaging fires. Our earth is our spaceship but so far we are just going in circles. We are in a purgatory if you prefer religious terms, the more materialistic we are, the more we feel the heat of hell's fires, the more we are spiritual, the more we feel the warmth of universal adoration for life.
One more passage from the man who completely and utterly rejected materialism, where he suggests there are many worlds out there awaiting spiritual people.
In my Father's house are many mansions: if it were not so, I would have told you. I go to prepare a place for you. John 14:2
Look up.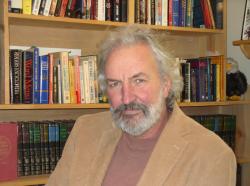 Lee is an author who lives with his wife and near his children and grandchildren in the Pacific Northwest, draws substance from a rather unique chapter in his lifestyle, raising a family in a remote wilderness valley in north central British Columbia. (lee@youtopia.guru) Find Out More >>
Reader Interactions