012 A Good 9/11 Question for Donald Trump and the Mendacious Media
Bob McIlvaine, a former history teacher from Oreland, PA, lost his son, Robert McIlvaine, Jr. at the World Trade Center's North Tower on September 11, 2001. From the evidence that Bob has gathered, it is apparent his son was killed by an explosion, likely in the lobby. Why, oh why, is the media so afraid to debate a well informed 9/11 researcher? At some point a conspiracy is proven or abandoned, despite so much definitive proof, the bankster owned and controlled media refuses to honor the sacrifices of the troops who, the media claims, fights for our freedoms, apparently the media does not believe those freedoms apply to open discussion of controversial topics on our public airwaves.
It is vital to all that is dear and good that we people of rational thought, insatiable curiosity and the burning desire for truth and justice do not fail in the struggle to awaken the greater public to the grimmer reality of the September 11, 2001 tragedy. We all know the media's mendacious role in providing the "official story" during the trauma of the moment, thereby focusing the nation's rage and confusion onto a suitable enemy in a very desirable location; the event paved the way for the CENTGAS/TAPI pipelines through Afghanistan, (damn those stubborn Taliban, we thought the trip to Mount Rushmore would convince you), Turkmenistan, Pakistan and India, and then the pivot into oil rich Iraq, where numerous US, British, et al oil companies are pumping crude, you know who I'm talking about, they were the ones at Cheney's secret energy meetings in OUR White House looking at oil reserve maps of Iraq prior to 9/11. Problem, reaction, solution. Works every time on the gullible public.
The bankster-controlled media has abandoned all pretense of real journalism and offers only infotainment distractions, twisted news with dubious culprits, nauseating low-brow political yammering, along with a smattering of real news, weather and, in the case of broadcast news, the obligatory fuzzy feel-good closer. The media has been tasked with keeping the public from making the connections among GW Bush/Cheney/Rice oil administration, the interlocked corporate boardrooms and the murderous forays into resource-rich Middle East, especially the Caspian Basin's oil and gas reserves, Iraq's oil, Afghanistan's opium and rare earth elements deposits including, perhaps, some of the lithium now burning up those glitzy new Samsung 7 smart phones.
These trillion dollar motives need to be heaped onto the billions of tax payer dollars directed to the defense contractors and oil companies of which the banks are majority stockholders. The mendacious media have developed mass marketing skills so sophisticated as to be able to fool people into allowing their tax dollars to be spent on building and maintaining military bases all around the world, concentrating of late in the turbid Middle East. They lose trillions from the DOD and yet urge their lobbyists, ex generals, to ask the hard working public for even more money, more sacrifice. The soldiers who re-upped after being offered incentive bonuses are now being asked to pay that money back. Weigh the preponderance of multi-trillion dollar motives against "they hate us for our freedoms" motive and the official story becomes truly bizarre.
This amazing ability by the media to withhold information was obvious during the recent "Commander in Chief" forum hosted by MSNBC's Matt Lauer. Trump boasted that if president he'd at least "take their oil," if we invaded another oil rich country—perhaps he should have said, when. Lauer just sat there and had no response, neither did Lester Holt the next time he had an opportunity to address the same statement by Trump. These exorbitantly-paid "newsmen" didn't mention the numerous US and British oil companies ARE in Iraq, pumping oil to world markets, and no discounts to the American and British soldiers, nor to the public who spend nearly half of every tax dollar supporting the American military-led Anglo/Zionist Empire. And please, let's not have any wincing anti-Semitic bullshit, the most openly expressive opponents of radical Zionism are Orthodox Jews, just look it up, you might be surprised. Again, nobody knows this because the Anglo/Zionist media would never allow an event such as the recent Whitehouse demonstration to be seen on TV, and you'd be lucky to find much at all about the event in your local newspaper, should any be left in your area.
As more and more people are figuring out the entire system is rigged, that the financial system is the well spring of all corruption, that politics is a smokescreen and the real legislators sit on interlocked corporate boardrooms, this neo-enlightenment period pushes the financial royalists ever closer to acts of sheer desperation. The internet is the Gutenberg 2.0 so we must protect it at all costs. The Anglo/Zionists owners have used "anti-Semitic" as an excuse to stifle conversation and censor anyone in opposition to practically anything critical of Israel or at least aggressive Israel policy. If the public knew many Orthodox Jews hate militant-Zionism the media's best weapon of mass censorship vanishes. All they have left is "conspiracy theorists" as a cry-wolf term, again, aimed at censoring the discussion, and this article aims to obliterate that one as well and hinges on that question for Donald Trump.
But first there is another secret being revealed, that is the direct connection to the all-ruling Federal Reserve and Israel; of course it started some 200 years ago with the British Empire and the Rothschild global banking dynasty. When William of Orange granted charter to the Bank of England to be the sole supplier of debt-based money for the vast British Empire, national sovereignty for all western civilizations vaporized overnight, it's just taken 250 years for a lot of people to realize it.
Judging by the unpopularity of the duopoly candidates, and the various protests and comments appearing here and there in droves, it appears the scales are falling off people's eyes and many are figuring out that he who controls the production and issuance of our money cares not what puppet sits on the throne which is why the British Empire/American Aristocrats/Rothschild Zionists are zealously protect the two-party duopoly. Many are also seeing the connections between the Federal Reserve and our "official" love affair with Israel. You see, in business, it doesn't pay to criticize Israel.
The numerous assassinations, overthrows, false flags, fixed elections, and murderous wars have finally caught up, or are catching up, with the financial alchemists who long ago learned to turn debt into gold. The recent announcement that we taxpayers are going to have to work harder every day to pay off the $38 billion "military aid" package to Israel via Obama, the president who wasn't supposed to get along with Israel only proves the point. Hmm, if Obama was at odds with Netanyahu then we can only suppose Trump or Clinton would be even more gracious with our tax dollars in a pathetic bid to earn the approval and rewards from the world's richest families.
As an aside, Matt Lauer recently purchased Richard Gere's mansion for some $36.5 million, you see knowing when to withhold the truth pays very well. Lauer is another standout graduate of the Joseph Goebbels School of Broadcast Journalism.
As we all know, the media is doing a treasonous disservice to the population by not allowing any real face-to-face debate on the 9/11 domestic terror event. They seem to think if they ridicule and scoff, utter ad hominin attacks, question the sanity of "truthers," then the public will see people seeking truth as unhinged, even un-American. This media protection was and is expected from the military channel, otherwise known as FOX News, but even Geraldo Rivera and Judge Napolitano came to the conclusion something is amiss in the official explanation on WTC 7. So other than those two, I expect FOX to provide cover, after all, this was the network Cheney insisted was on whenever he came into a room.
But when MSNBC's Rachel Maddow, in her condescending way, insults 9/11 truth and "truthers" she never has an opponent to debate the issue. That's cowardice. The same goes for Rolling Stones Magazine's Matt Tiabbi and for Bill Maher and Thom Hartmann, who actually used this goofball blacksmith's video of a blast furnace to heat a half-inch iron bar, bending it and declaring, see that's the proof fire caused the buildings to collapse on 9/11. Thom Hartmann actually said that. He also threw Kucinich, Sanders and Stein under the big D bus. Way back when, Hartmann had Kevin Ryan on against some Popular Mechanics debunker, of course Ryan destroyed him, but Hartmann has never had Ryan on again, or even Ellen Brown, who calls for public banking. I'm thinking Operation Mockingbird!
So we're getting to the question finally, but let's make sure we understand these four so-called "progressive" pundits posture as political geniuses, and let's keep in mind none of them have challenged any respectable, knowledgeable 9/11 truth teller to an actual debate. We all know why, they wouldn't stand a chance, they would be embarrassed, humiliated, worse, they would be seen as downright stupid for not getting the structural steel can't free fall thing. This might be especially embarrassing for Maddow, a Rhodes Scholar, so intellectually embarrassing her on national TV would also greatly embarrass her Oxford pedigree. This is why they will not allow a legitimate face-to-face debate of 9/11 on TV.
So with Trump we have a natural in. We have a perfectly legitimate reason to question him on the physics of bringing down a skyscraper. Trump is a businessman, many people want to elect him for that reason, he also has a 98-story skyscraper in Chicago, and some day it may have to come down. The question, that I can envision Luke Rudkowski asking, with his assault camera whirring, is Mr. Trump, you are a businessman and businessman are always looking for ways to save money, if you had to demolish this building for any reason, would you attempt to save millions of dollars for yourself, your family and your stockholders by NOT hiring a professional building demolition company? And instead would you be willing to just start some fires on any particular floor, let them burn awhile and then fall down, especially considering that NIST claimed all three buildings collapsed due to office fires? Wouldn't the example of the dynamics of the buildings collapse on 9/11 be an incentive to consider NOT using professional demolitions experts in order to save millions of dollars?
I suspect you are thinking those are stupid questions and you'd be right, but they would be legitimate questions seeing how two buildings in Trump's Manhattan fell straight down, allegedly, as a result of office fires and jet impact damage, while a third one fell straight down from office fires alone. Of course no one in their right mind would consider attempting to drop a skyscraper down into itself from fires alone. That would be utterly ridiculous and that is precisely the point. By the way, it's not that it would be particularly dangerous to attempt to collapse a building by office furniture fires, way because nothing much would really happen, it would burn and smolder fuel rich—oxygen starved, and the fires would eventually burn themselves out—the soft underbelly of the official story, it's absurdly ridiculous.
I would love to see Rudkowski or anyone pose that question to Trump in a public forum so the public not only witness a most clumsy answer, but may also be enticed to investigate 9/11 further.
But Trump is not the main target, just the way in. The main target is to pose similar and even more pointed questions to those who dare mock honest citizens doing their duty by providing oversight to an out of control politico/financial system. Democracy is not an entitlement, it has to be fought for and protected by the very people it was meant to protect. The founders set up the three branch government as a theoretical check and balance system, the media was dubbed the fourth estate, as the fourth branch of check and balance, yet when those four eventually come into cahoots via above mentioned interlocked boards of directors of various media, military, oil, pharma, agra, etc., not only should we so-called truthers refuse to be humiliated, we need to turn the tables and insist on real debates, instead of this inquisitional branding as socio-heretics, we need to claim the right to face our accusers, we need to protest ever more loudly and demonstratively, and with great earnest lest the same gang who gave us 9/11 give us WWIII. And if you've been following the news and even comedy shows, you know the push for public acceptance of WWIII with Russia and China is on.
The way to change is to take control of the media, the way to take control of the media is challenge them to live up to their own pretentious tribute to the "brave men and women who make the ultimate sacrifice to protect our cherished freedoms." So we pay trillions on the books and trillions off the books so our military can protect our freedoms, and I believe most enlisted soldiers believe this true and are honest about their commitment and believe in America, but it's the media they should not believe in because the media aristocrats are the ones who will not allow freedom of speech and freedom of discussion on open airwaves if that freedom is deemed threatening to the financial establishment.
Another question for Luke to ask, since you media pundits are always praising the sacrifice of the troops and the expense of the military because they protect the troops, then why don't you allow full discussion on things like 9/11, the USS Liberty, Kennedys, MLK? If you won't allow these things to be discussed then you have to stop repeating how much you honor and respect the sacrifices of the troops because it is a murderous lie.
Why can't we discuss 9/11, the event that changed everything and is still costing blood and money. Why is it the media can dwell ad nausea on every tweet and e-mail of the Trump/Clinton circus and meanwhile not report on developing stories and new evidence on 9/11 issues? Of course their job is not to report but to confuse, distort and lie.
As Matt Lauer's new digs, proves, lying is a lucrative business.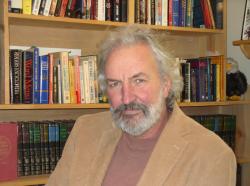 Lee is an author who lives with his wife and near his children and grandchildren in the Pacific Northwest, draws substance from a rather unique chapter in his lifestyle, raising a family in a remote wilderness valley in north central British Columbia. (lee@youtopia.guru) Find Out More >>
Reader Interactions