006 Larry Silverstein's Deadly Dust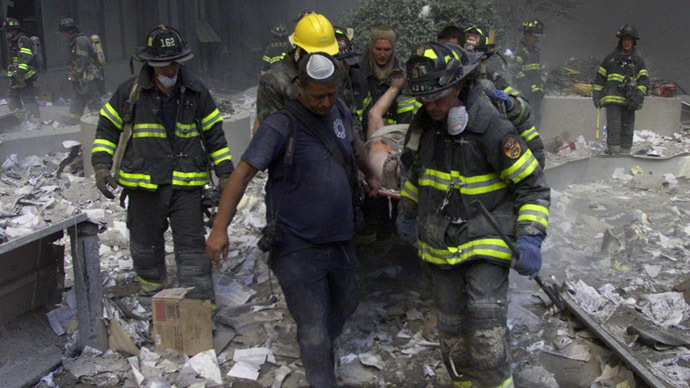 The good news is that on December 9th, the House and Senate both finally voted to extend the Zadroga 9/11 Health and Compensation Act giving health coverage to first responders and others afflicted with respiratory illnesses from the toxic air on September 11, 2001. The asbestos–laden air George W. Bush, Rudy Giuliani and EPA head Christine Todd Whitman insisted was safe to breath has turned out not to be so. The health compensation bill was held up by Senate Majority leader, (R) Mitch McConnell, but was backed by most democrats as well as republicans Marco Rubio and new Speaker of the House, Paul Ryan––good on all of them.
Championing the renewal of the bill, named after New York City Police Detective James Zardoga, who was one of the first responders to have died from the toxic dust billowing from the collapsing Twin Towers in lower Manhattan, was New York democratic senator Chuck Schumer, but more visible and perhaps more influential was the long time host of the Daily Show, New York/New Jersey's Jon Stewart––good on them too.
Numerous reports suggest the number of people contracting cancer and pulmonary disease is now approaching the total number of deaths from the tragic day itself. From USA Today's, Kevin McCoy, September 9, 2015:
The 9/11 death and injury toll is still rising as this week's 14th anniversary of the terrorist attacks approaches. Nearly 21,000 people have filed eligibility claims with the September 11th Victims Compensation Fund as of Sept. 6, up more than 4,000 from this time last year, according to updated data that fund officials released Wednesday. More than 9,000 claimants have been determined eligible for compensation of medical bills and other expenses, and more than 6,000 have received compensation decisions. First responders at the site of the decimated World Trade Center towers in New York City — more than 5,300 in all — represent the bulk of the approved claims and payments to date.

The total dollar value of the claims now tops $1.44 billion, an increase from $493.8 million in September 2014, the data show.

In all, 2,620 approved eligibility cases involve cancer-related illnesses. The cancer total nearly equals the 2,753 people who died at the World Trade Center during the attacks, and the 2,977 overall 9/11 deaths that include the strike at the Pentagon and the airliner crash in Shanksville, Pa.

"I think that number's going to rise considerably," said Sheila Birnbaum, the special master who oversees the compensation fund. Explaining that more than 62 types of cancer are eligible for coverage, she added: "These are very common cancers, so we are likely to see a lot of them."
Stewart, who vacated his Daily Show host chair last summer, was a guest of new host Trevor Noah. Stewart made a plea to congress, specifically trying to shame Mitch McConnell into passing the Zadroga Bill. His many blocked attempts to obtain interviews with various Senators, mostly republican, who would not support the bill was telling of the Ivory Tower aloofness of many of today's elected representatives. I'm a bit surprised Rand Paul's office did not make a better effort to hear Stewart and the responders have their say.
Stewart brought Kenny Specht to the Daily Show with him; of the four first responders who appeared on the Daily Show with Jon Stewart from several years ago, the image of Specht and three empty chairs where the others sat in 2010 was very sad and chilling, as seen in the video.
Other videos helped bring the plight of the first responders to the public, this one called Dust and Deceit, by Little Penney.
The toxic dust of Manhattan was private property, wholly owned by recent WTC purchaser, Larry Silverstein. He knew when he used a lot of other people's money to buy the WTC complex, including Building No. 7, there was an asbestos abatement requirement slated to cost close to a billion dollars. I'm not sure why Jon Stewart, nor any media outlet will dare talk about the obvious controlled demolitions of 9/11–this oversight, sheepishness will haunt them as more and more people are killed and maimed in the wars and aftermath of the wars waged in response to 9/11.
Whatever you believe about 9/11 at this point, we need to all agree to honor the troops and first responders who fight and die for our  lives and safety, for freedoms of press, for open public dialog, open internet, unfortunately, far too many praise the sacrifices of the troops and of first responders, but refuse to honor their sacrifices by insisting that people who claim to have evidence, no matter how controversial and heretical can discuss it on public airwaves and in mainstream publications–the controlled press is anathema to democracy.
The efforts of Stewart, Ms. Little, and all others are appreciated as we all are grateful for the bravery and life saving skills of the first responders. I, for one, am happy the bill passed and knowing a pittance of my tax money will be allocated to helping ease the financial anxieties and suffering of those people inflicted with Larry Silverstein's toxic dust. However, I think Lucky Larry Silverstein should be more than willing to offer some of his billions of dollars of insurance claim fortune to help the first responders who have died and are dying from ingesting his private property.
This video, or at least the subject matter, is familiar to anyone who questions the official 9/11 explanation which called for an immediate retaliation with war while overlooking the myriad "coincidences" and the overwhelming physical evidence that has been brought forth since 9/11 proving beyond any doubt the buildings were brought down by controlled demolitions. For those who haven't seen videos such as these I suggest it's time to dare to do so and I hope you discover things which prompt disturbing questions your good conscience simply cannot allow to remain unanswered.
And for this post, one more look at why he's called "Lucky" Larry Silverstein.
Your courage and engagement in the pursuit of truth and justice is greatly appreciated.
Democracy is not an entitlement!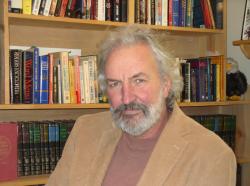 Lee is an author who lives with his wife and near his children and grandchildren in the Pacific Northwest, draws substance from a rather unique chapter in his lifestyle, raising a family in a remote wilderness valley in north central British Columbia. (lee@youtopia.guru) Find Out More >>
Reader Interactions